Hon. Wavinya Ndeti Visits Machakos University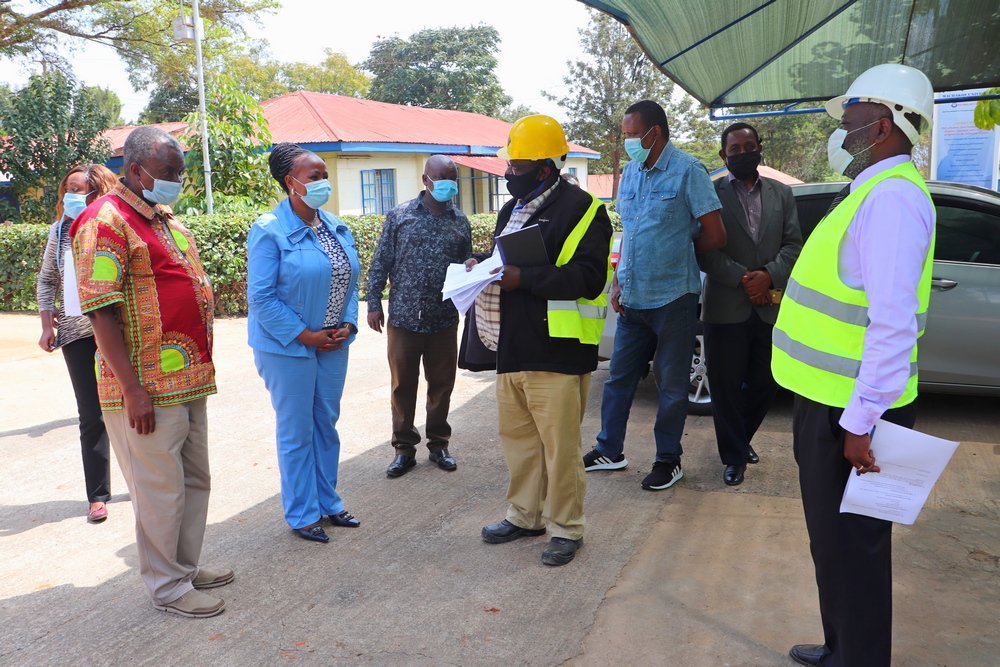 The Chief Administrative Secretary, Hon. Wavinya Ndeti from the State Department of Public Works under the Ministry of Transport, Infrastructure, Housing & Urban Development made a site inspection on the status of the Proposed Tuition and Office block at Machakos University. This was part of her inspection tour of several development projects within Machakos County. Accompanying her were Mr Taragon Geoffrey –DCC from Machakos County and Arch.S.K Muli OGW- Chief Architect, Eng. N. Karanja, Eng. F.K. Mbiti- Ag.CEE- all from State Department of Public Works- Nairobi.
Hon. Ndeti was received by Deputy Vice Chancellor in charge of Administration, Planning and Finance-Prof. Douglas Shitanda on behalf of the Vice-Chancellor, Machakos University, Prof. Lucy Irungu. Also present were Project Manager, Dr. (Eng.), Githinji, Mr Clement Mbatha -University Clerk of Works, representatives from the main contractor of Vighjiyan Ltd., and other consultant construction professionals from State Department for Public Works.
In her remarks, Hon.Ndeti said she was satisfied with the progress of the project and that the Government of Kenya has fulfilled its part of financing it and it's up to the contractor to complete the project. She advised all the parties involved in the Project to work as a team to ensure the facility is delivered as promised. Further, she appreciated the University for efficient Payment of certificates as it was reported that there was no pending payment certificate. The contractor assured her that in ten months' time, the project will be completed and handed over to Machakos University.
 On behalf of the Vice Chancellor, Prof. Douglas Shitanda,  the Deputy Vice Chancellor ( Administration, Planning and Finance)  agreed that the progress of the project construction for the last six months has been satisfactory and hoped that it will continue with the same speed to completion.  In addition, the Deputy Vice Chancellor appealed to the ministry to consider the staff of Machakos University in the Boma Yangu housing scheme, for the houses being sold to Civil servants in Machakos town. The CAS promised to look into the matter for University staff to be considered in the scheme.
---
Site Inspection for the Proposed Tuition and Office Block Machakos University Photos